THE EXPERIENCE
The perfect environment for you to take care of body and mind while working remotely, alongside a community of inspiring individuals.
Join a group of remote workers who pursue adventure, growth and meaning in their lives; and live 2 weeks as a local in one of Colombia's hidden gems, Barichara.

Dubbed 'the most beautiful town in Colombia', this is a colonial picture-perfect haven of tranquility, adapted for your 21st century needs. We will also swing by the Chicamocha Canyon and San Gil in search of hiking, rafting, canyoning and rappeling.
Enrich your worldview and immerse yourself in an ideal environment for productive working and mind resetting, while learning both from our expert guests and from one another.
Upgrade your health by nurturing your mind & body with daily mindfulness and fitness practices, led by experts in their fields.
Recharge and reconnect with yourself and others. Synergize, harmonize, collaborate, network —build deep and meaningful lifelong connections with this curated tribe of conscious high-performers.
CO-LIVING
Large villas in the middle of town
Villas with swimming pool and large open social area
Choice of private or shared accommodations
Breakfast included
CO-WORKING
Environment designed for increased productivity
Dedicated blocks of time for deep work
High-speed internet across villas
Local SIM card with data plan included
WELLNESS
Daily yoga
Daily meditation guided by Tashi Mannox
Fitness sessions with Cheryl Mestra
Hiking, trekking and nature activities
Sound healing & Tibetan singing bowls
Habit creation: deconstructed
The meditative journey of Tibetan Calligraphy
A meditative approach to creativity
...and many more to come!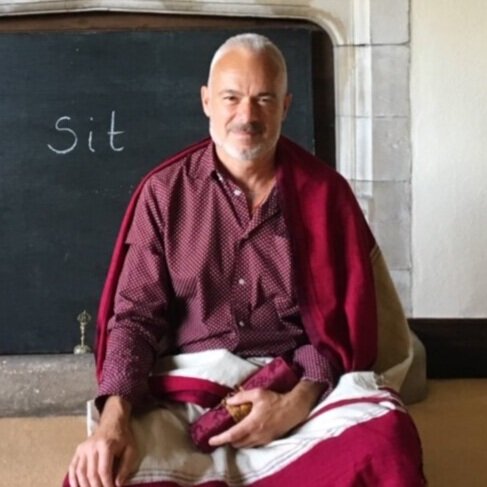 Meet Tashi, former Buddhist monk, world renowned Tibetan calligrapher and Master of Prana Yoga. Tashi will hold workshops to introduce us to the meditative journey of Tibetan calligraphy and the art of meditation.
Trained as Tibetan Buddhist monk from 1985 to 2000, Tashi did the traditional 4 year cloistered retreat until 1992. Since then he has been sharing these practices as a meditation guide and instructor in the various Tibetan Buddhist tantric practices.
Tashi is also a yoga instructor, meditation instructor and lecturer at the Jivamukti Yoga and the Sangye Yoga School in London.
Meet Cheryl, NIKE Master Trainer, NIKE Athlete, and Hatha yoga instructor. She lives her passion: helping people lead a happier and healthier life through sports and fitness.
Cheryl aims at promoting a better lifestyle through mindful nutrition, yoga, functional training, running and more. She is also a certified Crossfit trainer, and has been both staff and participant in the Crosffit Games.
Learn and practice with her how to upgrade your body & mind.
Dates
February 9-22, 2020 (2 weeks)

Price
EARLY BIRDS: Starting at USD 1,200

Couples/Partners: 2nd person 50% off

Alumni: 10% off


What else is included?
Private villa(s)
Private or shared accommodation
Daily breakfast
Daily guided meditation with Tashi Mannox
Daily yoga
Fitness sessions Cheryl Mestra
Welcome and closing event/dinner
Expert-led workshops and talks
Transportation Airport—Villa—Airport
Local SIM card with data plan
LiveBeyond Welcome Kit, sponsored by Intelligent Change
LiveBeyond community membership